I'm currently attempting to make scratch chicken stock/soup.
Help me Rhonda. It smells good in here...even though it doesn't look do great ATM.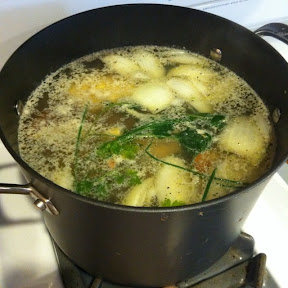 I'll let you know how it turned out.
For my own pathetic memory later, here's what I did.
1 package of split, bone in/skin on chicken breasts (2)
1 package of bone in/skin on chicken thighs (5)
2 carrots, pealed and chopped in half
2 celery stocks (leaf part too), chopped in half
1 onion, chopped in quarters
Handful of fresh snipped herbs: parsley, thyme, chives.
Salt/pepper
Cover with water and get it to a boil. Turn heat down and let simmer.
We'll see how she does in a few hours.
- Posted using BlogPress from my iPhone