Here's a recipe for our family's favorite trail mix.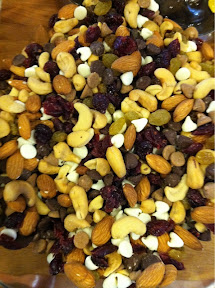 I bag of the Nestle Peanut Butter and Chocolate morsels
1/2 bag of the Nestle White Chocolate morsels
Several handfuls of the following (until it reaches your own perfect balance of yumminess): Almonds, Cashews, golden and/or regular raisins, Craisins and Peanuts.
Mix well and enjoy!
- Posted using BlogPress from my iPhone