This beauty arrived yesterday morning!
My lovely new refrigerator! Its a Samsung, we got it from
Sears
. I got a pretty screaming good deal on it, $1200 off due to the holiday sale. Quadruple thanks to Veterans! <3
Shiny <3!! Love!!
Its sorta hard to see from this shot, but there really is a TON of room. Upper left corner you can see the compact ice maker - makes something like 36 glasses of ice. That way you still get room in the door. Other models have the full ice maker in the door, but that means you don't get any door storage. I like this setup. There are the 2 crisper drawers on the bottom. They're a smudge small, but really its not bad.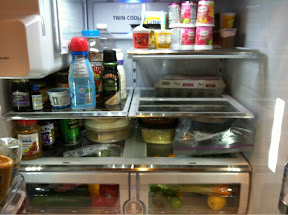 The shelf the eggs are on is a split shelf. The horizontal line you see in front there, well that front part of the shelf slides under the back part so you can store taller items if needed. Where the creamer is, you can sorta see that shelf is flipped up to rest on the ice maker to make room for taller items. Love it!
This right here makes up for the smallish crisper drawers. This is the upper outside drawer you see in the first shot. There's an LCD there with 4 different temperatures (wine, drinks, meats, party trays etc). This is where I keep the sammich meats/bacon, cheeses, and some cold snack items. I liked that this will be easily accessible to the kiddo as he gets older without having to get into the upper fridge.
It is sorta hard to see but there is a slider/grid for the drawer where you can set 'sections' from 1-4 to help keep things in there organized/contained to compartments. Nice feature!
This is a shot looking down at the bottom freezer drawer. This pic is technically upside down. I can't get Blogger to rotate it the right way and I'm too lazy to go into Aperture to force it.
At the top of the pic you see some small baggies, well that's technically right in front of the handle against your leg when you open the drawer. If you take those baggies out, you'd see that there is a slot you can lift up and place a pizza box in vertically.
You see on the bottom of the pic the drawer? That's technically the 'upper' drawer for the freezer. It slides back and forth and is oh, 5-6" deep or so. Perfect for small items or frequently used things.
The very bottom (in the middle on the pic) is the deep section of the freezer. It has a moveable divider- in my case it separates meats from veggies/fruits.
- Posted using BlogPress from my iPhone