Happiness is SNF (Sunday Night Football) in a comfy spot (my bed) with the house smelling yummy!
I <3 Scentsy!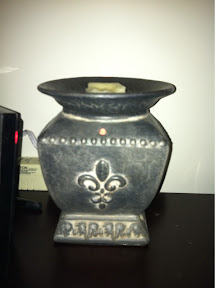 I found some cute warmers at WalMart made by Better Homes and Gardens. They're half the price as the Scentsy warmers and just as nice.
I recently ordered a bunch of new scents from Scentsy but Enchanted Mist is my all-time favorite.
Which do you like?
-----
In completely unrelated news, I recently found some new bedding.
I've always lurvved white bedding, but have had a hard time finding what's been in my head. So last year I ordered a floral one from Pottery Barn that I really liked and overall I've been happy. But still, the elusive white bedding has been niggling at me.
Well I noticed way too late that Target (in addition to West Elm, at a much higher price) had exactly what was in my head. Unfortunately, Target had sold out completely by the time I'd realized they had what I'd been searching for. Bummer.
Right before I was going to hit 'purchase' on the West Elm site, inspiration hit. So I went to over to eBay and wham! I found what I wanted (from Target's line) for the exact price I wanted!!
So happy!!
So here is the new white bedding! I'm thrilled to have found it after looking for so long!
(sorry for the bad night-time lighting, it truly is white)
What do you think? Simple but not plain right?
I like that for fall/winter I can add some fall and/or Christmas colors (pillows/throws) to change it up a bit. I still love my floral Pottery Barn duvet, which I'm sure I'll bring out next spring.
- Posted using BlogPress from my iPhone