Here's a few things I've spotted via Pinterest that I've now made:
I made this Snickers-Apple salad tonight.
Super simple and very yummy!
I made this Hawaiian Crockpot chicken a week or two ago. Got good reviews in our house!
I made this buffalo chicken salad last week. Sam and I both liked it. Max didn't :P
Here's what mine looked like: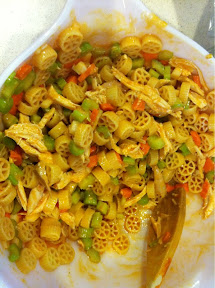 I made this southwest chicken in the crockpot a couple weeks back. Very good, especially using leftovers for tacos/burritos. Make sure to use full strength cream cheese (not low fat/fat free).